Boost efficiency and 
improve experiences.
800k
destinations managed
22 years
of CX experience
"Two weeks after we went live with Parlance, I walked into a senior executive meeting and before I could say anything, they were applauding."
Understand the Caller Journey
Gain unprecedented visibility into caller behavior through end-to-end call path analysis to identify problem areas.
Improve the Caller Experience
Get callers to the right place without the time, effort, and frustration of IVRs, Auto Attendants, and hold queues.
Reduce Call Management Costs
Increase call load capacity, do more with existing or fewer resources, and offload 50% or more of call load.
End-to-End Call Path Analysis
Parlance CX Insights delivers never before seen visibility into the caller journey by analyzing calls from the moment the caller rings in until hang up — across all transfers, IVRs, contact centers, and agent interactions. Move beyond the limited scope of traditional analysis tools to gain complete caller experience context. Uncover critical CX roadblocks and invest more wisely armed with greater knowledge of caller intent and behavior.
Adaptive Speech Automation
Parlance Adaptive Speech solutions deliver fast, simple, and intuitive caller experiences to get callers to the right place in a business without the effort and frustration of IVRs, AAs, and hold queues. High levels of user engagement deliver immediate impact and attractive ROI. Deliver the experiences your customers want, and the efficiencies your contact centers need. Please callers, increase agent availability, reduce costs, and more.  
"Parlance has helped us overcome a historically labor-intensive operation, and we're looking at an ROI of 5X in the first year alone

."
"From digging deep into caller behavior to actually listening to our needs, developing appropriate solutions, and managing all the nuts and bolts, Parlance has been an exceptional partner."
Customers
Visionary organizations — from healthcare and higher education to finance and manufacturing — rely on Parlance every day to improve call handling, reduce operational costs, and raise customer satisfaction.
"Parlance has become more than just a vendor to us. They're a crucial component of our Patient Experience Program."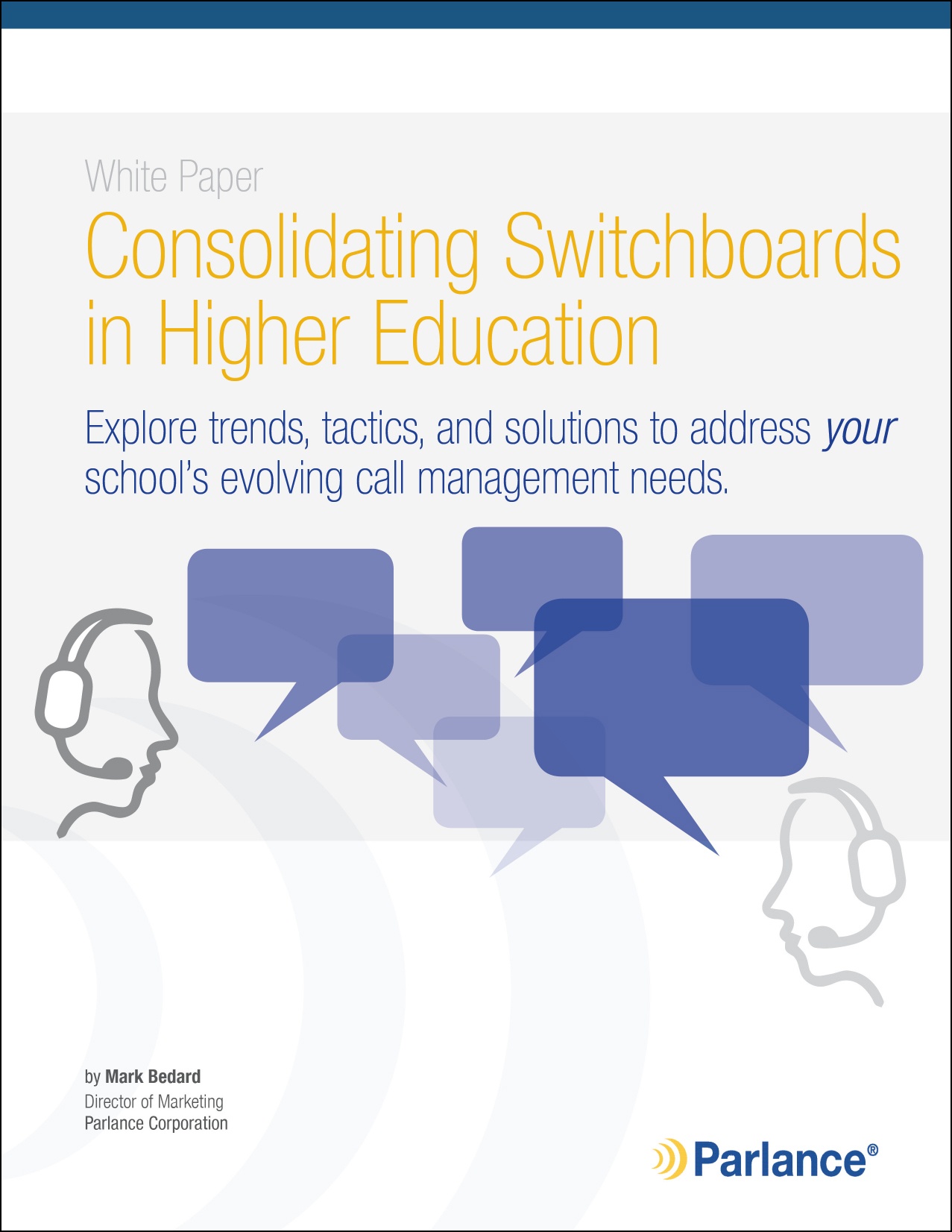 White Paper: Consolidating Switchboards in Higher Ed
Learn how excessive workload impacts your different contact center communities and gain perspective on what you can do about it. [Get the White Paper]
White Paper: Are You Empowering Your Operators?
You should be! Learn about the challenges healthcare switchboard operators face, and how you can easily empower them to deliver excellent service. [Get the White Paper]
White Paper: Can Lean Practices Transform Call Management?
Yes they can! Learn how Lean Manufacturing principles can be applied in the contact center to improve service, create efficiency, and reduce costs. [Get the White Paper]
"It blew me away. I was shocked by the system's accuracy, and pleased with the exceptional service and support displayed by Parlance."
Parlance and Mutare Partner to Improve the Voice Channel
Parlance is excited to announce that we've partnered with Mutare to help make large organizations more efficient and agile, from healthcare to education—raising sales, lowering costs, and ensuring compliance.